*Attention*


We offer discounts for schools, churches, and qualifying businesses.
We provide custom quotes in the event that you need multiple transmitters, receivers, or stationary systems.
Please contact us at 800-991-6207 or through the contact us page.
Description
The PFM PRO RCH personal FM system is perfect for provided hearing assistance in a variety of environments. The PFM PRO RCH model is rechargeable and comes with a recharging base for your receivers. This system is most popular among teachers when dealing with students that need assistance. The assistance may be needed for hearing impairment in the classroom or for focus and attention.
The system is also great for hearing impaired users attending church, conferences, learning centers, or for clear communication with another person.
Williams Sound FM Systems are always top quality, top of the line performance, and come equipped with a best in class Lifetime PLUS Limited Warranty.
Great for Classrooms

Great for learning centers

Great for churches

Classrooms

Small-group listening

Employee training

Consultations

One-on-one conversations
How it Works
The system is simple to use! The individual speaking wears the body pack transmitter with microphone. The user wears the receiver and headphones or earbuds that are provided. Both units are turned on and to the same channel. The system provides a clear channel of communication to prevent distractions or provided amplified assistance of the speakers voice. The system also comes with a aux cable. This allows the transmitter to be plugged into any audio source to be transmitted to the student or user. This allows video's, assemblies, or other instruction and information to be sent to the receiver.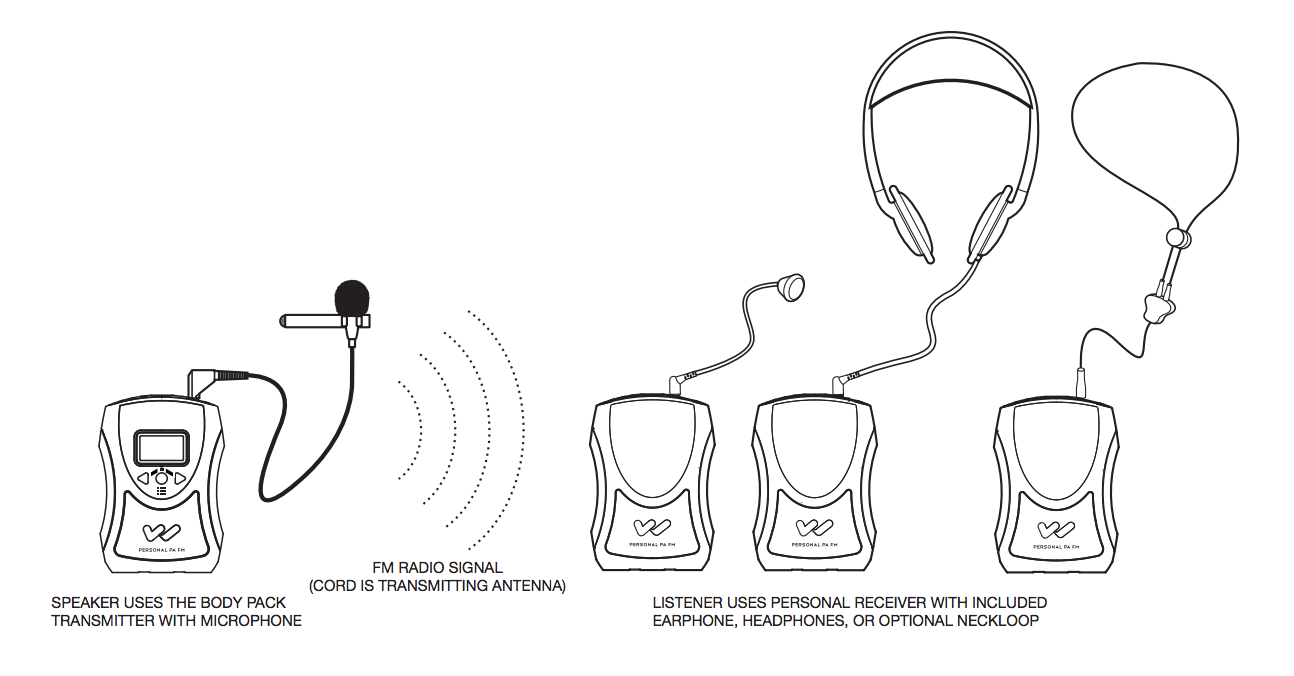 Each system features 17 selectable channels on the 72-76 MHz band and has an operating range of up to 150 feet. A versatile 3.5mm jack allows for a variety of earphones and headphone options, and is compatible with neckloops and telecoil-equipped hearing aids (not included with system)
Includes
(1) FM Body-pack Transmitter (PPA T46)
(1) FM Body-pack Receiver (PPA R37)
(1) Single Mini Earphone (EAR 041)
(1) Folding Headphone (HED 021)
(1) Audio Input Cable (WCA 087)
(1) Lavalier Microphone (MIC 090)
(2) AA Rechargeable NiMH Batteries (BAT 026-2)
(1) System Carry Case (CCS 043)
(1) Dual Drop-in Charger (CHG 3502)
DISCLAIMER: FCC rules limit use of this equipment to auditory assistance.
NOTE: The PFM PRO and PFM PRO RCH systems are approved by the FCC for operation in U.S. markets. These systems cannot be used in all countries. Check with your government´s radio regulations for 72-76 MHz operation.